Perhaps you are like I was in 1995. You want to visit Cuba, but you don't want a conventional tourist experience, quartered in expensive hotels run by foreign companies, shuttled to and from points of interest by government run tour bureaus, exposed only to the cliché version of Cuban culture found in beach resort enclaves. You want to be in the community, meet real people, and appreciate cultural and educational experiences at their source in the schools, homes, and streets. You may have a language barrier like me. No matter, at your discretion, your PLANET CUBA tour specialist is with you at every encounter, assuring that you achieve your travel mission, safely and completely.
Like me, you probably want to go to Cuba for a special reason: perhaps to study music or dance, to learn about the education, health care, or legal systems, to enjoy Cuban baseball or boxing, to see how Cuban cigars are produced and to appreciate this product, the world's best. I have done all of these, always with the company of a Cuban friend who knows the territory, gets me in to the best venues at the lowest cost, and interprets the language and, more important, the culture for me.
What is your goal for travel to Cuba? We can arrange your trip around any one or combination of themes:
New Timba group Michel Maza y Su Temptacion at Casa De La Musica in C. Havana, 12/02.
Music
Go to the hottest performing venues to enjoy Cuban music and dance with Cubans. See the latest Timba bands or encounter Cuba's folkloric music and dance groups. For a review of the music scene, go to Cuba Info at Timba.com and click on Travel Stories and Nightlife to read my articles on this great website. Also, read my interviews with Latin Jazz star Chuchito Valdez, and Timba star Michel Maza and others at Timba.com.
Study music with the greats in Cuba. Planet Cuba can arrange private instruction for you with master instructors from the National School of Art in Havana and other schools. We can even arrange for you to practice your instrument with a Cuban salsa band or rumba group. One of our favorite people is Amadito Valdez, timbalero from the Buena Vista Social Club productions and one of the living legends of Cuban music. Visit Amadito's own website at www.AmaditoValdes.com. Another source for instruction in Cuba is my friend Don Skoog with the Contemporary Music Project. Visit CMP at this link: CMP.
Planet Cuba client Lynda Anderson working with Banrara dance instructor Yacelis Sanchez.
Dance
Take dance lessons with the best professional instructors in Cuba. After your lesson, practice your moves at one of the many world class salsa clubs in Havana. Read about the club scene at my Cuba City Guide page at this link CUBA on SalsaWeb.com.
Practice your Spanish while enjoying the best tables in Cuba at home with Cuban friends.
Language Immersion
Study Spanish with a university professor of language in Havana and then practice in the community or at home with a Cuban family.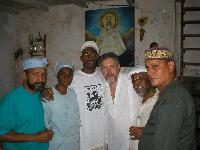 Thor and Chuck with their Babalawos after their Registro, or consultation in Havana, December, 2002.
Religion
Attend a Catholic Mass with Cubans, or observe a Santeria religious ceremony, have a reading with a Babalawo.
Legal System
See how the courts operate, understand government and lawmaking in the Western Hemisphere's only Communist state.
Educational and Health Care Systems
Find out how Cuba has achieved a literacy rate of 95.7% and a life expectancy of 76.6 years under conditions of severe economic stress?
Sports
Get in the stands with some of the world's greatest baseball fans during Cuba's major league playoffs. Or see some of the world's best boxers in training.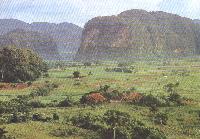 The tobacco region of Pinar Del Rio
Cigars
Take a trip to Pinar Del Rio where the best smoking tobacco on earth is cured and rolled into the best cigars. Avail yourself of the best sources for the product.
Plastic Arts Bldg, Nat'l School of Art
History and Architecture
Cuba has some of the oldest cities and structures in the Western Hemisphere. See these and some modern gems like the National School of Art in Playa, Havana.
Collage of Chango, Santamarina, '93
Art
Contemporary Cuban artists are gaining international attention. Visit them in person in their home communities. Purchase artworks directly from the artists.
Thor with Los Cinco Caballeros y La Negrita on their 9/02 road trip.
Road Trip
Cuba is the largest island in the Antilles chain, and it is very beautiful. Rent a car and hire our driver for a cross country tour to the cities of your choice. Read about our road trip in September, 2002, posted on the website of my favorite travel consultant and concierge, soul-journ.com. Click on "How to Make a Great Cuban Road Trip." Or, see the pictures with the story at Timba.com.
You Name It
These are some of the themes I have enjoyed over the years. You may have another. Try us and I bet we can put a trip together for you that perfectly fulfills your wishes.